感谢 摄影师 Ste Murray 对gooood的分享。
Appreciation towards Ste Murray for providing the following description:
V&A Dundee博物馆是苏格兰的第一座设计博物馆,由隈研吾建筑都市设计事务所设计,此前我们已经对该项目进行过完整报道(点击这里查看V&A Dundee博物馆项目完整内容)。
本文展示的是 摄影师Ste Murray 对gooood分享的一系列V&A Dundee博物馆的新照片,相信能够帮助我们从更多角度来观察和理解这一非凡的项目。
▼V&A Dundee博物馆外观,exterior view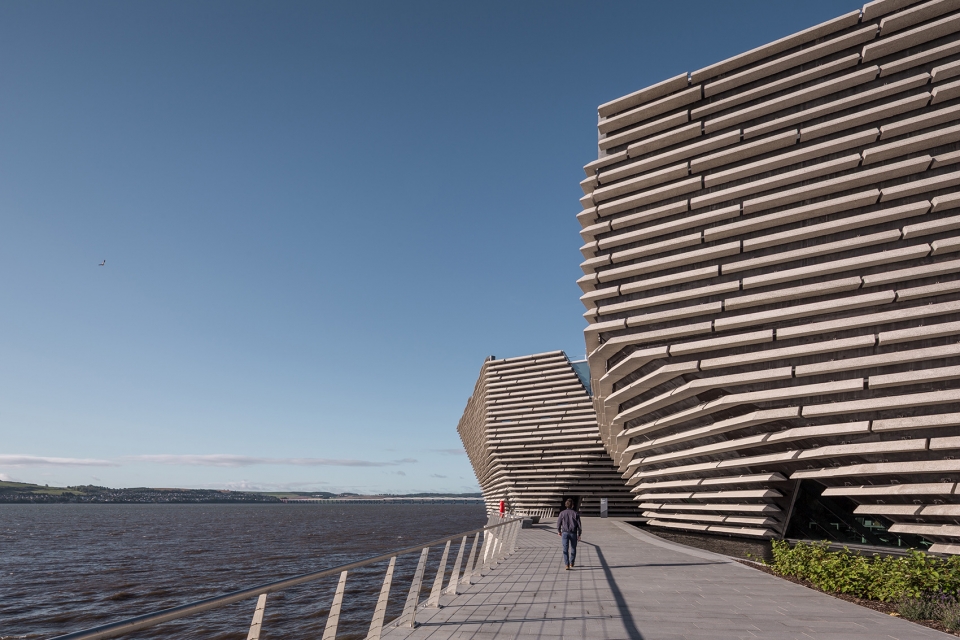 "对于我们而言,这个项目的特别之处在于项目基地的位置——水与城之间,即陆地和水域之间,一般的项目并不是这样。当我们开始构思项目方案的时候,我的同事给我看了一张苏格兰东北部悬崖的照片。悬崖的形成过程仿佛大地和海水的一场漫长的交谈,在此之后,悬崖才有了如此令人惊异的形状。我们的博物馆设计方案试图通过建造"人造悬崖"将这种地理特性体现在这个建筑中。"
——隈研吾

"The uniqueness of this project for us is in the position between the water and the city – it is very different from a normal site as it sits in between land and water. As we started thinking about the project one of my colleagues showed me a picture of the cliffs of north-eastern Scotland – it's as if the earth and water had a long conversation and finally created this stunning shape. The design of V&A Dundee attempts to translate this geographical uniqueness into the building by creating an artificial cliff."
— Kengo Kuma








"博物馆外表皮的材质是预制混凝土,建筑的外轮廓沿着起伏的混凝土墙延伸,由此生出奇妙的视觉光影效果,并且形成的光影会随着天气和时间而变化。"
"The form of the museum is inspired by the cliffs on Scotland's north-eastern coastline, with the cladding – dramatic lines of pre-cast concrete that run horizontally around the curving concrete walls – creating patterns of shadows which change with the weather and the time of day."








"游客由一个宽阔而精致的大厅进入博物馆,建筑师为了能让游客有宾至如归的体验,特意设计了采光部分,让阳光能洒满整个大厅。同时为了使这个空间富有活力,还在大厅配了咖啡厅,小商店和其他设施,方便游客进行社交。"
"Visitors enter V&A Dundee through a large and beautiful main hall, a light-filled space intended by the architect to be welcoming and accessible, a vibrant place to socialise with a café, shop and other visitor facilities. The stepped interior walls are lined with hanging oak-veneered panels, pierced throughout by slot windows which create a dynamic, warm and playful light, as well as views out to the river. "





"餐厅的全景天窗可以一览室外露台和泰湾的美景,还能看到RRS探索号。"
The restaurant with spectacular views through floor-to-ceiling windows and from its outdoor terrace over RRS Discovery and the River Tay.



"除了550平米的苏格兰设计画廊,V&A Dundee博物馆还有着苏格兰最大的博物馆标准的临时展览空间,面积达1100平米。上层还有一整套学习空间,旨在提供一个多元化的方案,能让所有人都来参与到设计中。"
"V&A Dundee has the largest museum-standard temporary exhibition space in Scotland, at 1,100 square metres, in addition to the Scottish Design Galleries at 550 square metres. Also on the upper floor is a suite of learning spaces, designed to provide a diverse programme for all to participate in design creativity."











"博物馆远观起来如同斜倚着水面的船首,让过往之人联想到这座城市的造船传统。"
"A 'prow' leans over the water and recalls the shipbuilding heritage of the city."



版权️©谷德设计网gooood.cn,禁止以gooood编辑版本进行任何形式转载
Copyright©gooood
Click to contact with the designer/author