来自 合什建筑&朴诗建筑 对gooood的分享。更多关于他们,请至:HAD&Epos architects on gooood
Appreciation towards HAD&Epos for providing the following description:
从街道看过去,黑匣子是白的!一组不同开放性的白色匣子巧妙地契合进城市老化社区一角的荒置空地,钢结构梁柱、波纹钢板和打孔钢板在昭示着其临时性,黑匣子内闪现的健身人影和篮球拍击的声响则清晰地叙述了它的功能,透过疏密变化着的玻璃和打孔钢板晕染后的灯光在夜幕降临后骄傲的宣布着它在这稍显沉闷的街区俨然是活力的中心。
Viewing from the street,the black box is white! A group of white box with different openness cleverly fit into the corner of an aging urban community.steel beams & columns, corrugated steel and perforated steel plates indicate its temporary, the fitness figure and basketball slap Sound of the black box clearly describes its function, the blooming light through glass and perforated steel plates in the night proudly announce that it's the center of vitality in this slightly dull neighborhood.
▼建筑外观为白色,室内为黑色,the appearance of the building is white while the interior colors are dark

黑匣子的室内确实是被深色主宰的,钢、木、混凝土板等基本材料在业主低造价前提下完成室内色彩变化的同时,也在叙述建筑功能的交替:运动健身、艺术展览、共享生活、PARTY·······
The interior of black box is indeed dominated by dark colors. under owner'slow cost demanding, steel, wood, concrete slab and other basic materials complete indoor color changeing,also describe the building function alternately: sports and fitness, art exhibitions, sharing of life, PARTY etc.
▼前台,深色的室内,reception, dark colors in the interior

建筑本身足够结实的盛满了整个场地边界,把场地中央作为室外活动中心,同时几乎所有的交通流线组织、空间内外转换都围绕场地中心展开,周边的建筑实体在迎合中心形虚而神实的召唤中产生着不确定的扭动与流动,体量由此愈加丰富。
As the building itself plumply fill the entire site boundary, the heart of the site is considered the center of outdoor activities, while almost all of the traffic stream organizations, space onversion of inside and outside are around the heart to start.the building entities surrounding the center produce an uncertain twist and flow, thus enriching the volumes.
▼从前台进入后看到篮球场,view of basketball court when entered from the reception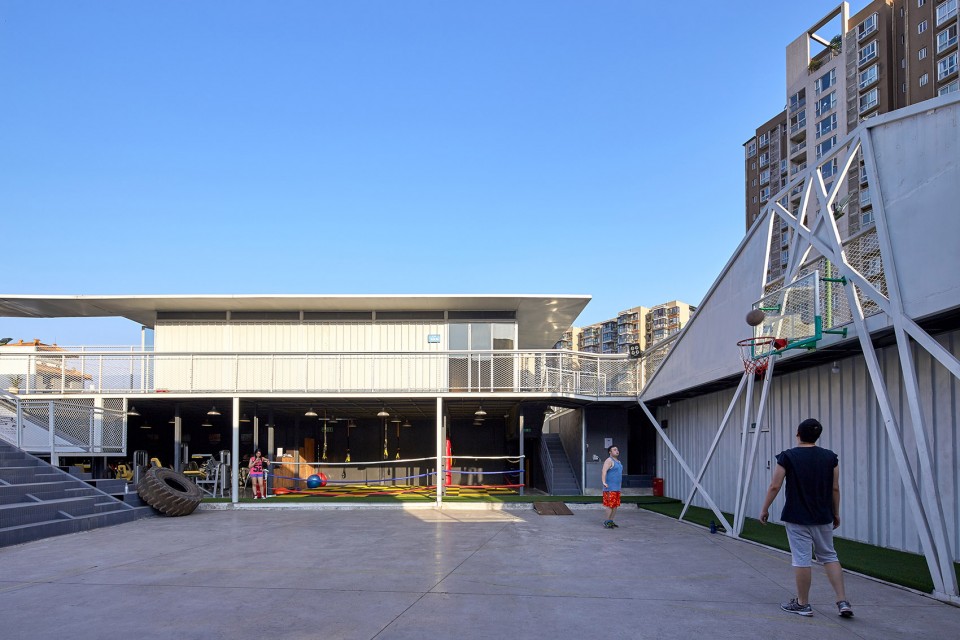 ▼建筑空间围绕篮球场展开,various spaces organized arround the basketball court

▼从二楼平台看篮球场,view of the basketball court from the second floor platform

▼从瑜伽房看室外平台和篮球场,view the outdoor platform and basketball court from the yoga room

▼通透的瑜伽房和较为封闭的跳操房,open yoga room and relatively close gym

▼北侧为玻璃,南侧设有打孔钢板,glass on the north and perforated steel plates on the south
项目在市政管理意义上的不确定性和经营探索上的不确定性主宰了建筑的功能的不确定性,由之展开了一个充分利用边界条件的临时建筑在空间上的流动性,在此基础上,设计师对建筑的开放性和封闭性作出了最大化的关注,因此设计师面对建筑现实问题诸如社区激活与互动、功能变化与衔接、建筑的相对临时性思辨等诸多复杂挑战,最终产生了在哲学意味上暧昧而温和的不界定的结论。
The uncertaintiy of municipal management and the uncertainty of business decide the uncertainty of the building function.thus reveal the space fluxility of a temporary building with an full utilizing of boundary conditions. The architects focus on openness & closure of the building, so they face problems such as community activation and interaction, functional change and convergence, the construction of the relative temporary building and many other complex challenges, and ultimately result in the philosophical meaning of ambiguous and moderate undefined conclusions.
▼建筑内夜景,night view inside the building



▼一层平面图,first floor plan

▼二层平面图,second floor plan

设计机构:合什建筑(HAD)&朴诗建筑(Epos)
项目地址:中国.成都.静居寺
主持建筑师:周勇刚
项目面积:900平米
项目年份:2015年
摄影师:存在摄影
Design institution: HAD&Epos
Site of the project: Chengdu, China.JingJuSi
Architect: Zhou Yonggang
Area of the project: 900 square meters
Year of the project: 2015
Photographer: Arch-exist Photography
More: HAD&Epos,更多关于他们,请至:HAD&Epos architects on gooood
版权️©谷德设计网gooood.cn,禁止以gooood编辑版本进行任何形式转载
Copyright©gooood
Click to contact with the designer/author