感谢 BINST ARCHITECTS 予gooood分享以下内容。更多关于他们:BINST ARCHITECTS on gooood。
Appreciations towards BINST ARCHITECTS for providing the following description:
基地前身为Boelwerf造船厂,现在建有四栋公寓,为Cordeel公司所有。本次项目是公司从Eurolaan向De Zaat工业区迁址计划的一部分。新总部大楼一侧俯瞰整个场地,另一侧远眺Temse城市中心,为Cordeel的商业价值增添了新的一笔。
▼项目外观,external view of the project ©Limeparts

On the site of the former Boelwerf there are currently 4 department buildings of the company Cordeel. These are part of the complete relocation of the company from the Eurolaan to the De Zaat industrial estate. The new headquarter was designed as a valuable, new addition to Cordeel's business premises and provides a view of the entire business site on the one hand and of the centre of Temse and the Scheldt on the other.
▼原本的桁架,existing truss ©Binst Architects
▼施工过程,construction process ©Binst Architects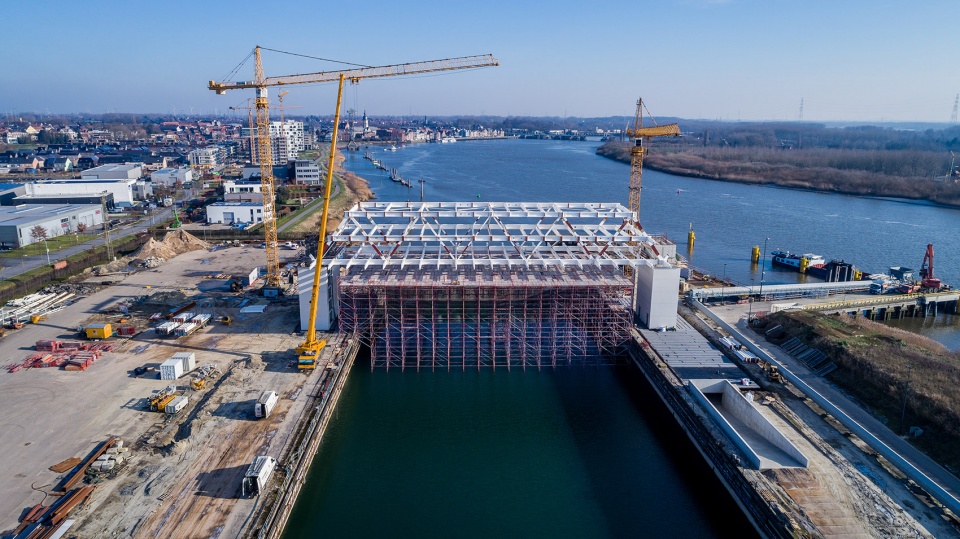 一个两层高的钢桁架结构横跨在原本的干船坞上,下方铺设枕木。它们将被安装到两座相隔72米的混凝土建筑体块之上,每个体块中包含两座电梯和两道楼梯,以及通往办公室的入口。
The existing dry dock is spanned in width by a steel structure of two double-high trusses with intermediate sleepers. It will be installed on two concrete building volumes that are 72 m apart, and that also contain the entrances to the office, each with two elevators and two staircases.
▼远景,桁架放在两个建筑体量上方,distanced view, the truss placed on the two building volumes ©Tim Fisher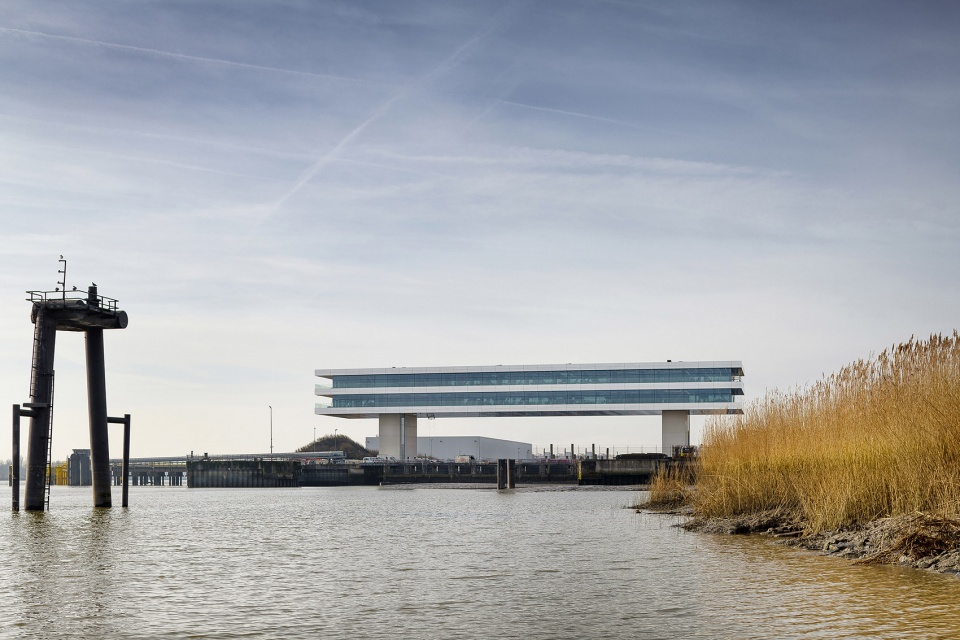 ▼建筑横跨河流,building running ©Bart Gosselin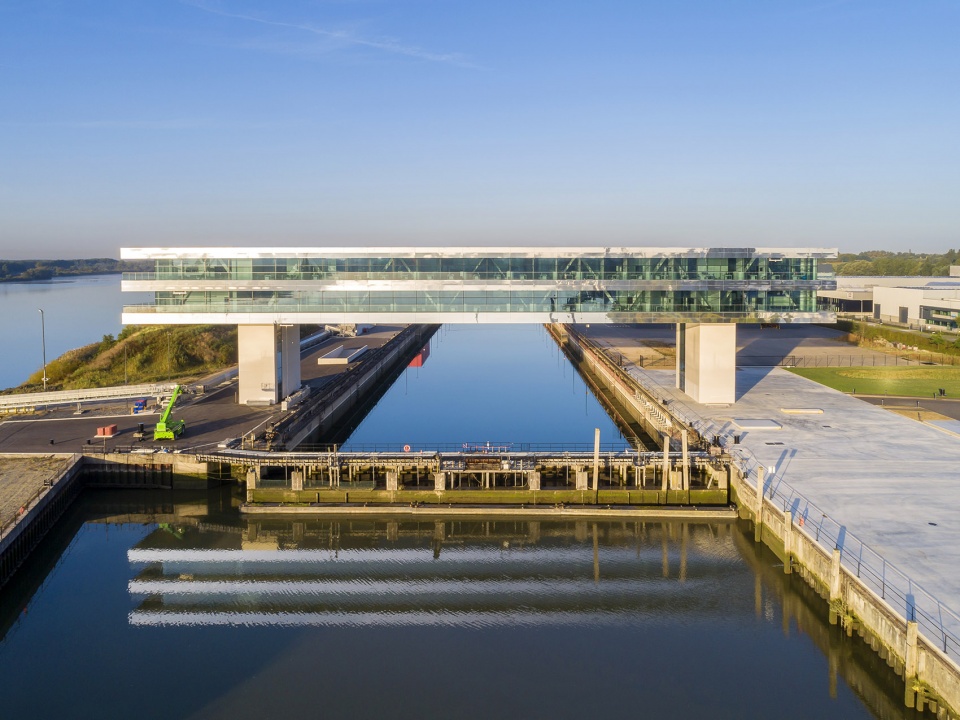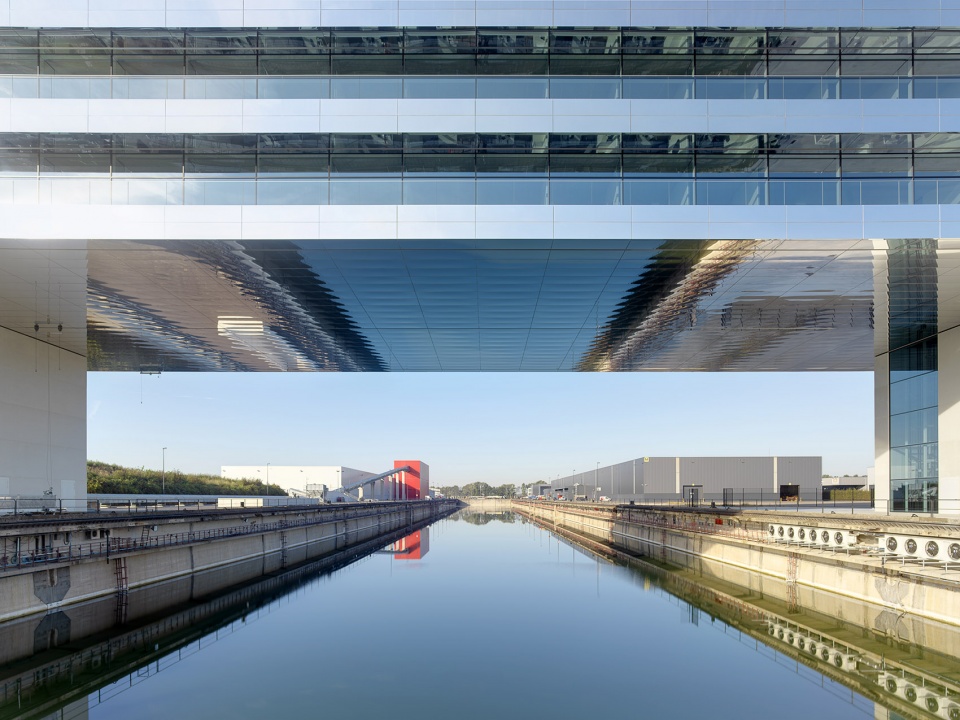 ▼地面上的公共空间,public space on the ground ©Bart Gosselin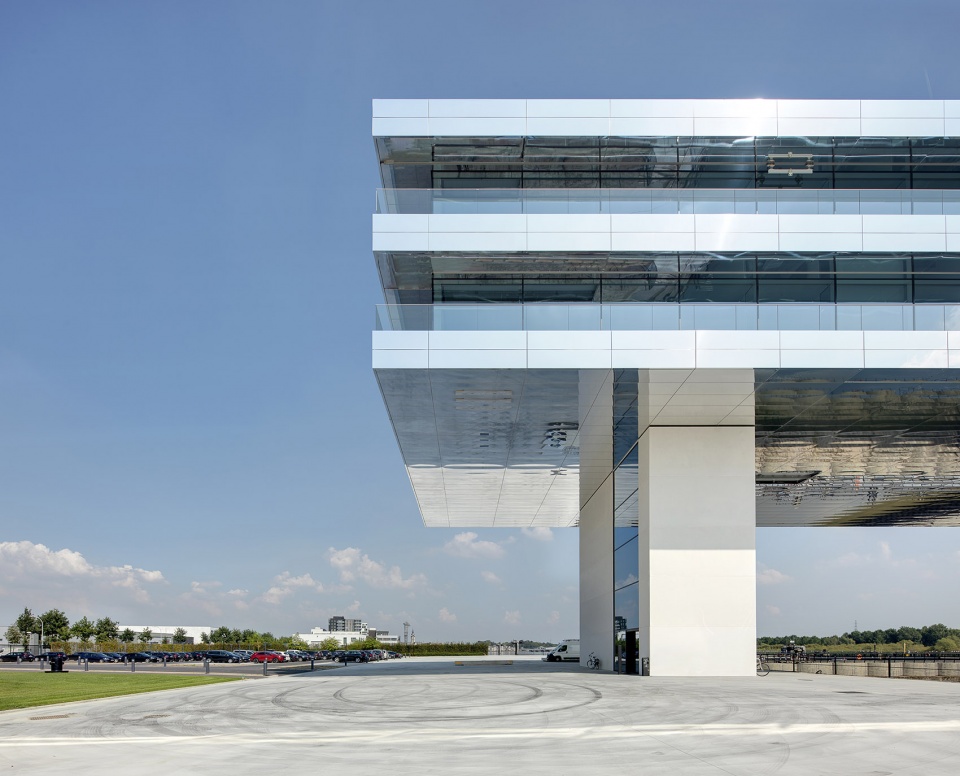 办公空间共有两层,每层面积2300平米,设有从地面到天花通高的玻璃幕墙,被露台环绕。
The 2 office floors, 2,300 mÇ each, are fully glazed from floor to ceiling and are surrounded by terraces.
▼办公空间由通高幕墙和露台围合,office enclosed by floor to ceiling glazing and terraces ©up: Limeparts, below: Bart Gosselin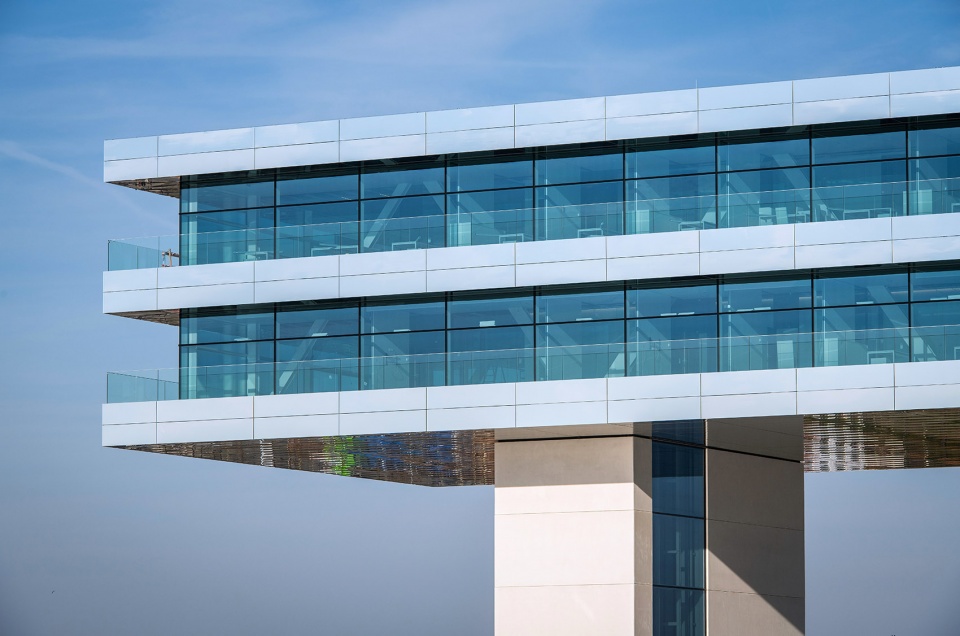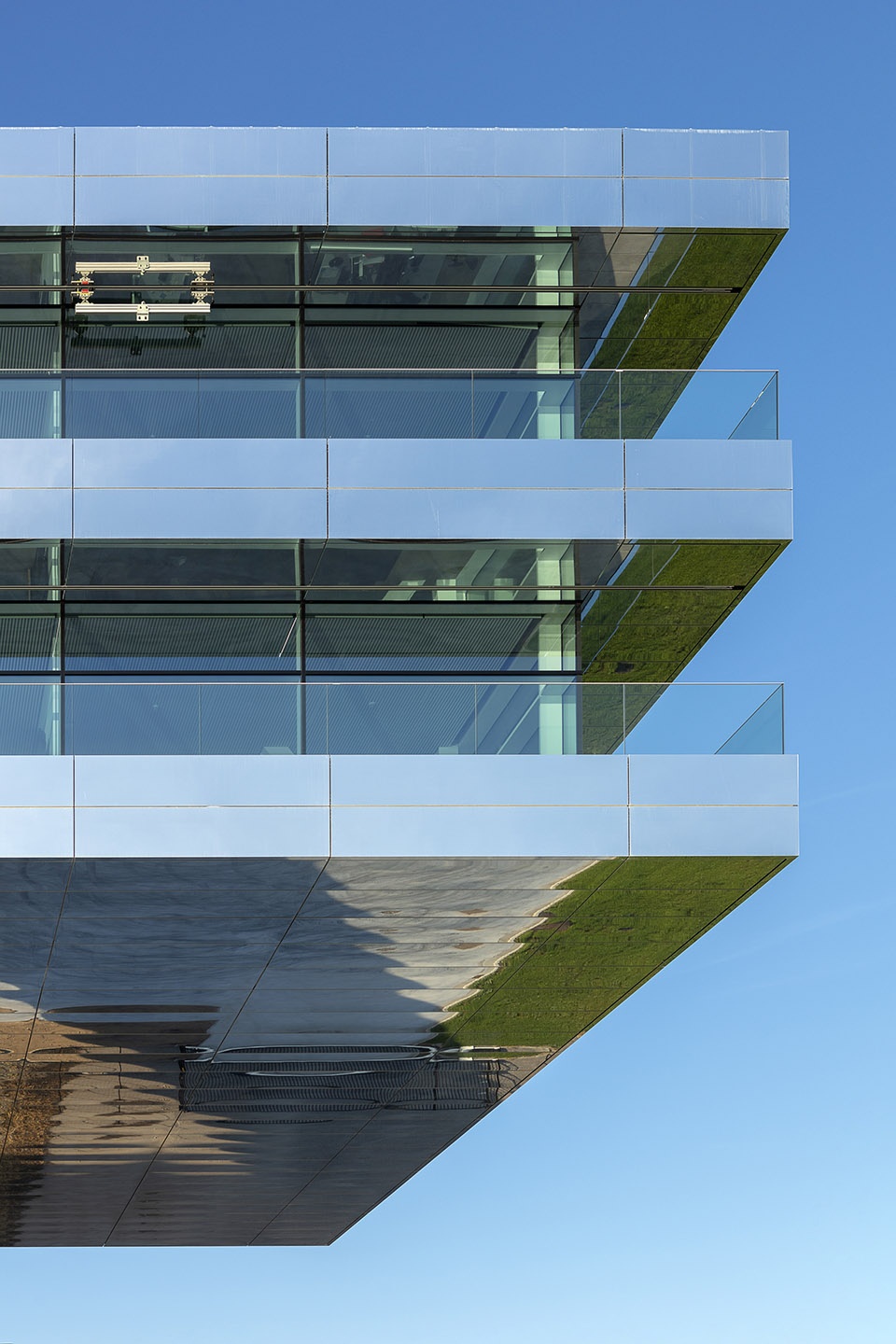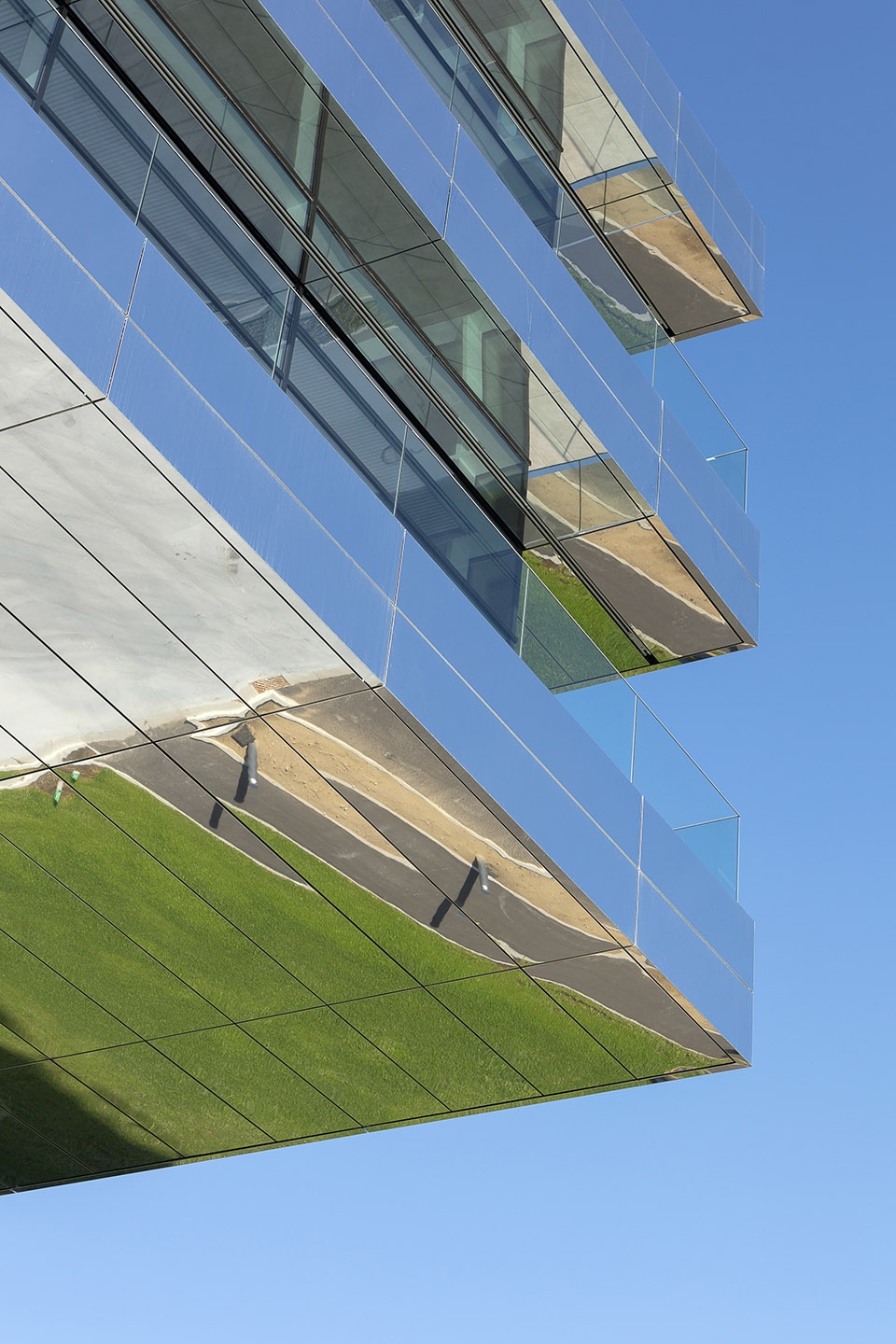 结构采用3.6米的网格,使办公空间的布局更为灵活,最终形成了带景观的办公室、会议室、项目经理办公室和管理室的混合空间。多功能房间位于建筑南端,南侧与宽敞的露台相连,为人们提供了不受遮挡的惊人景观。
The structural grid of 3.60 m allows for a flexible layout of the office space, resulting in a mix of landscape offices, meeting rooms and offices for project managers and management. The multipurpose rooms with a spacious adjoining terrace at the southern end of the building offer a fantastic panoramic view of the surroundings.
▼连接两层办公空间的楼梯,staircase connecting the two-floor office space ©Bart Gosselin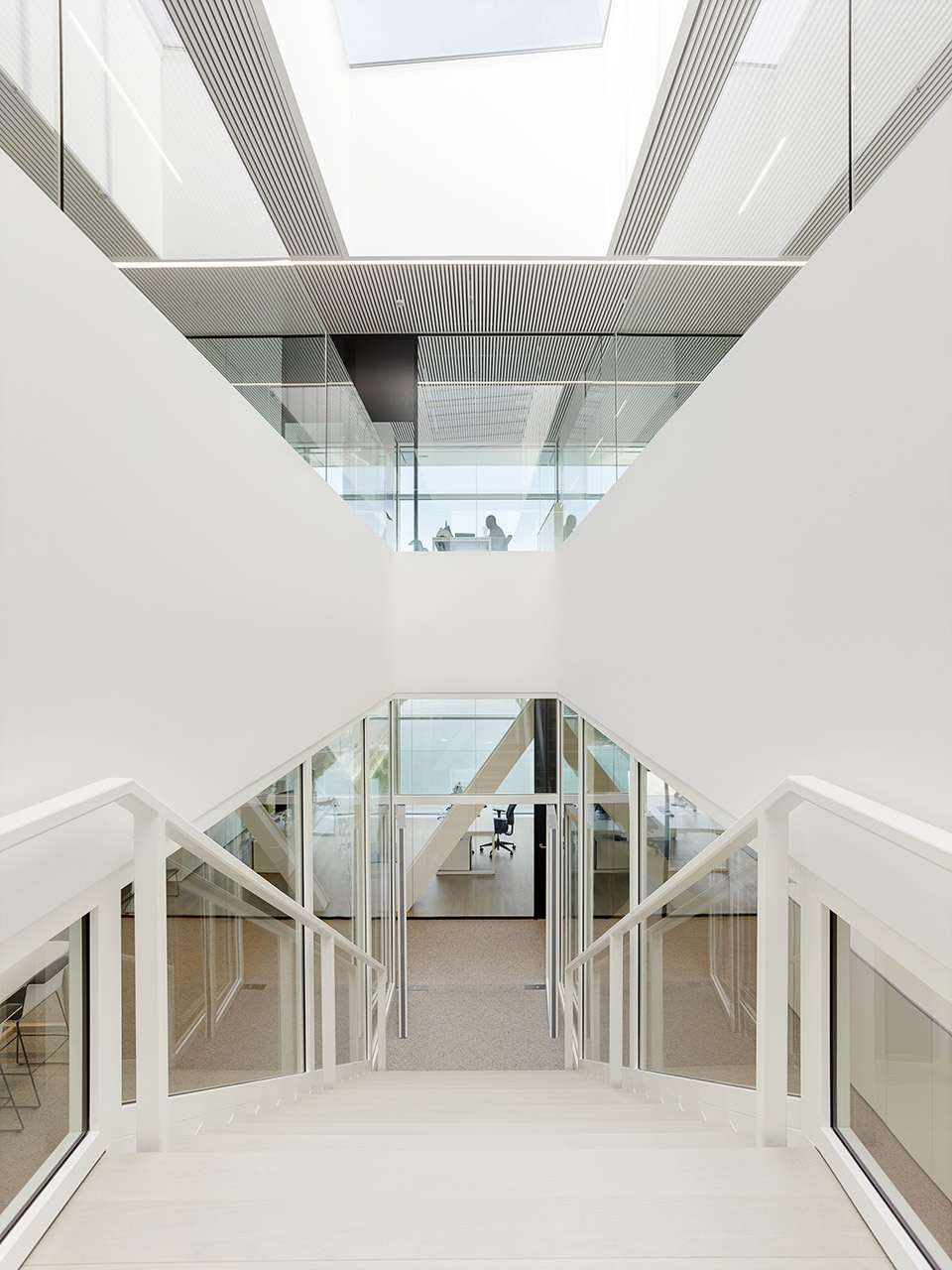 ▼接待区,reception area ©Bart Gosselin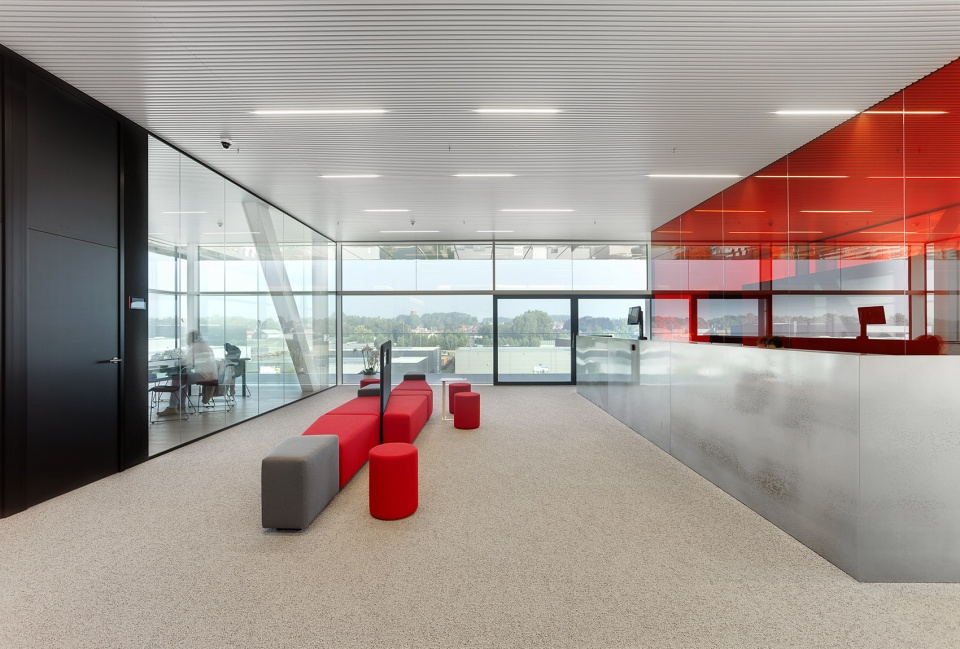 ▼休闲洽谈区,空间开放,open space of the recreation and meeting area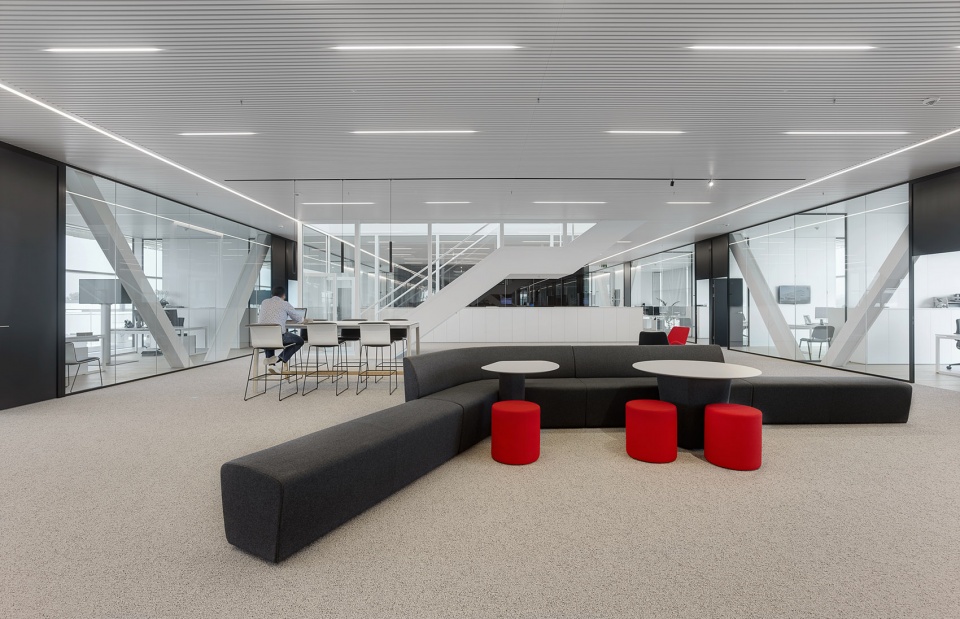 ▼集体办公室,office for many people ©Bart Gosselin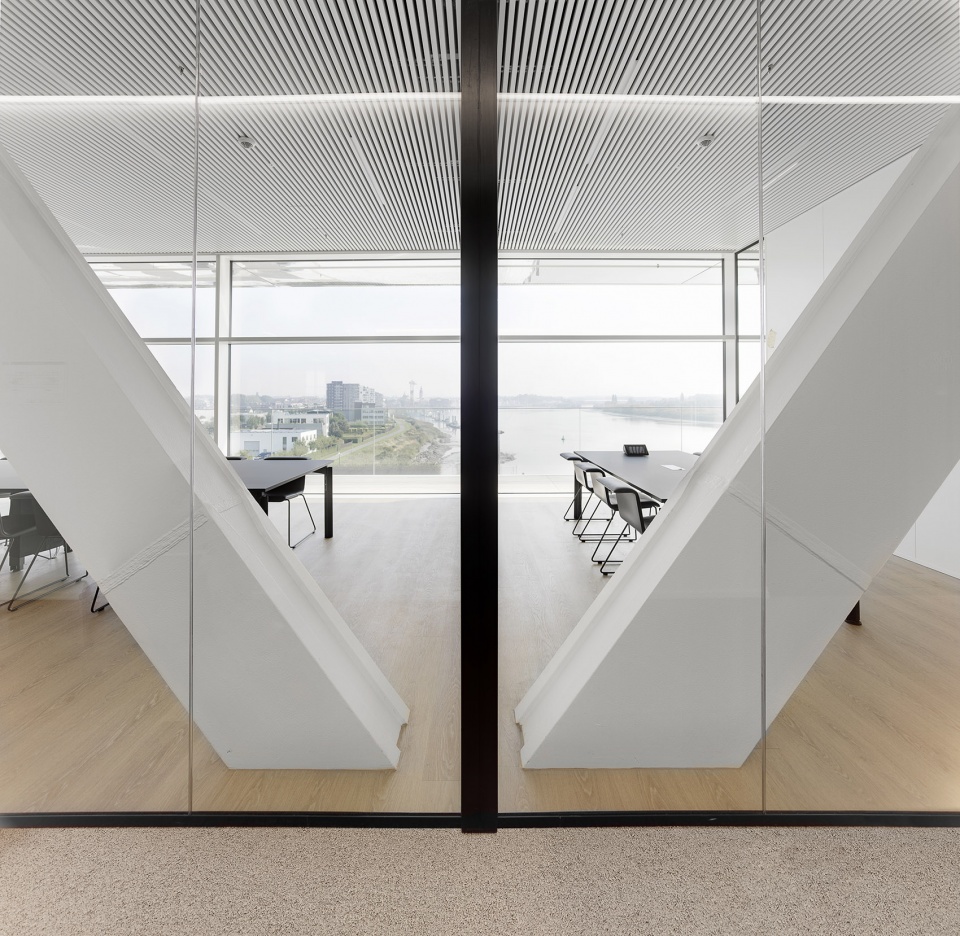 ▼单人和双人办公室,office for one or two people ©Bart Gosselin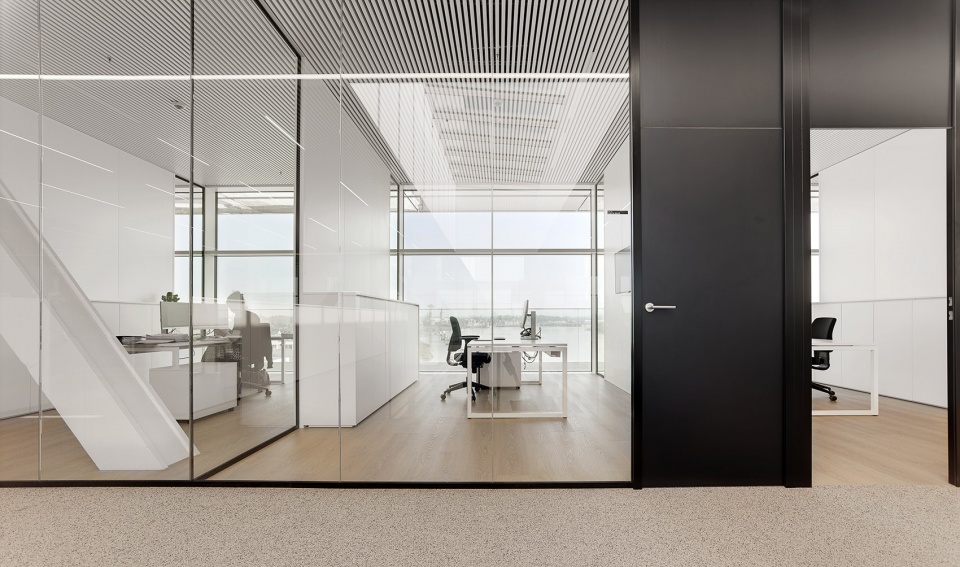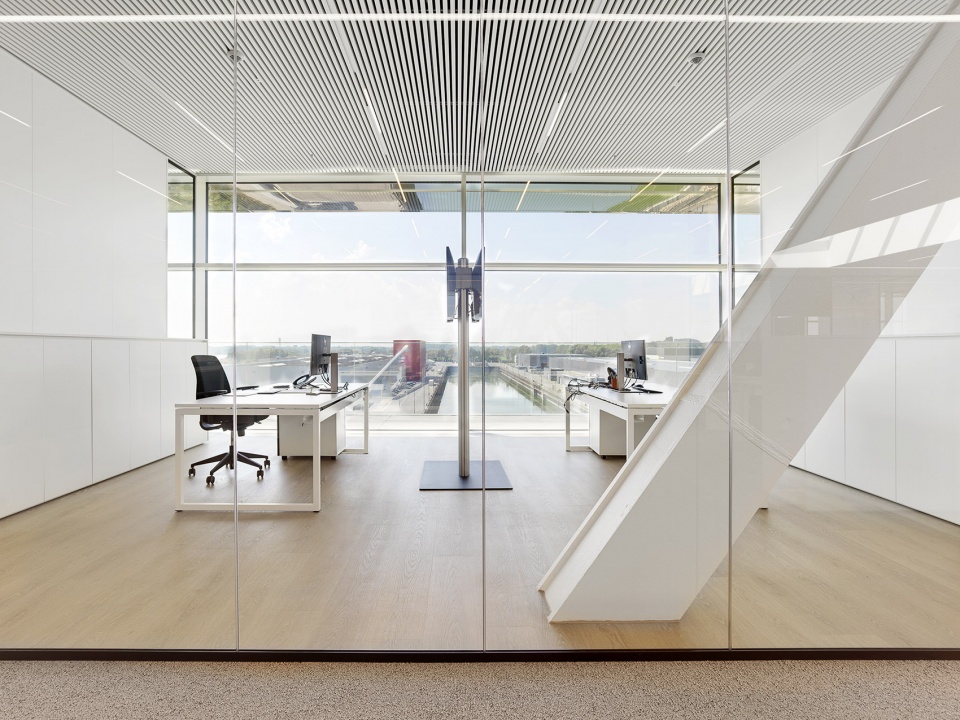 ▼办公室中可以享受全景景观,enjoy panoramic view in the office ©Bart Gosselin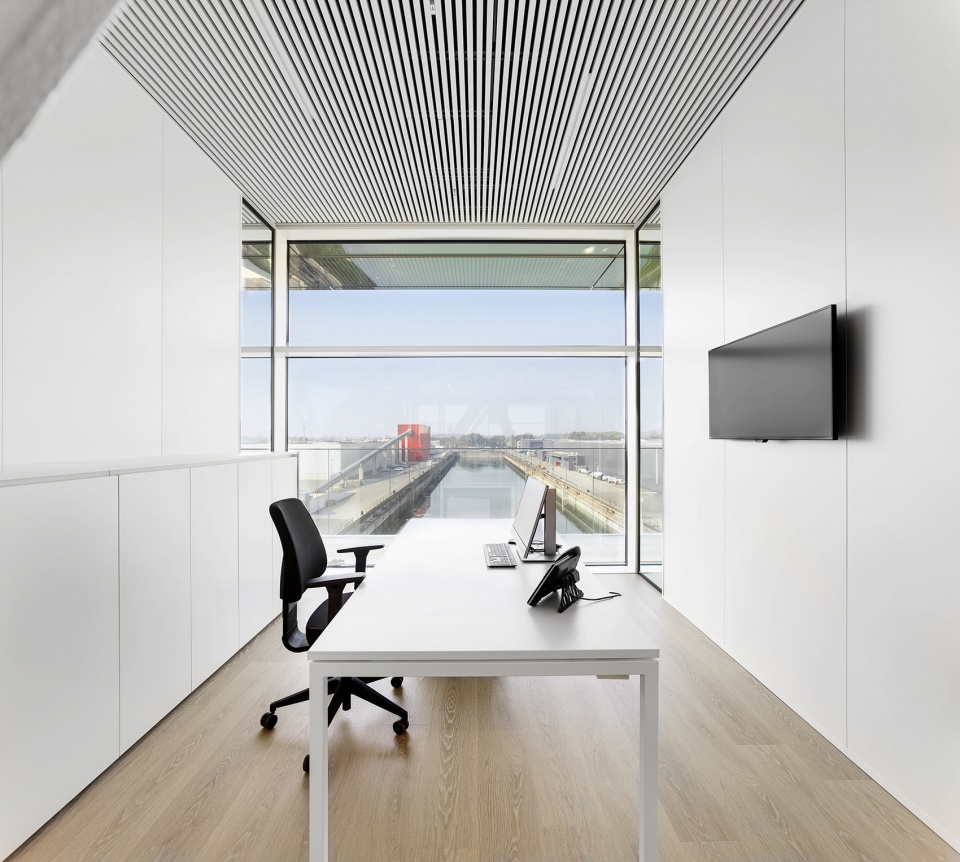 ▼会议室,meeting room ©Bart Gosselin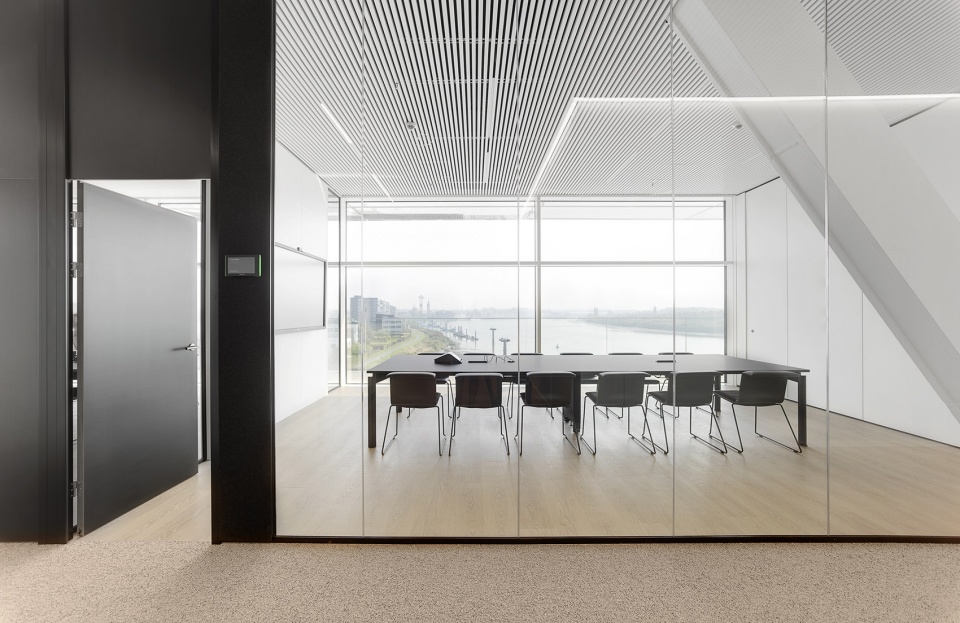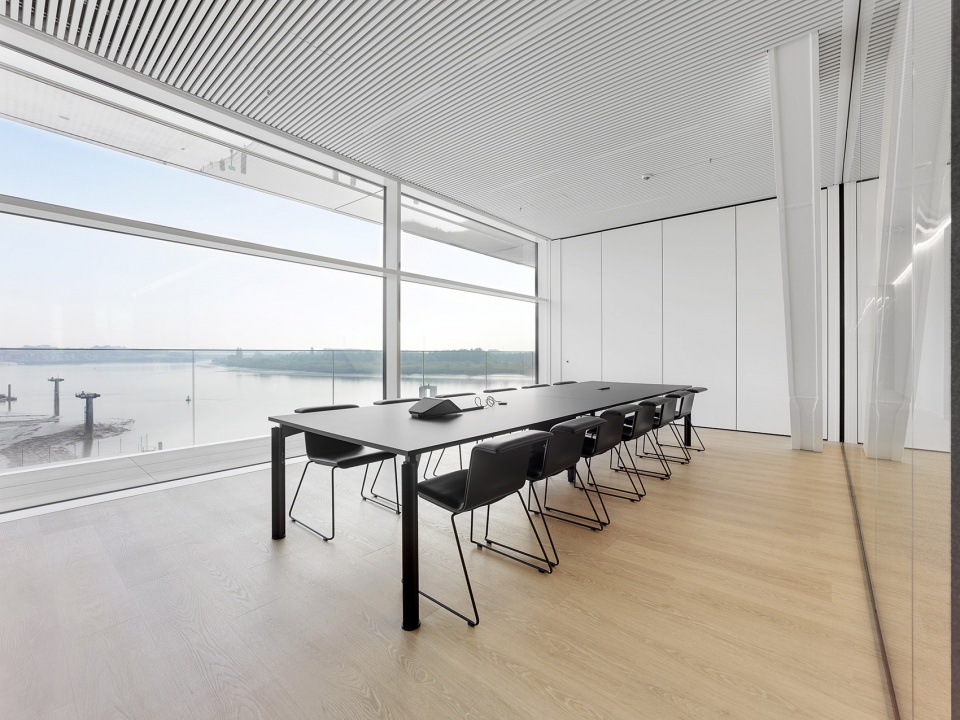 ▼空间通透,可以欣赏周边景色,transparent space with view to the surroundings ©Bart Gosselin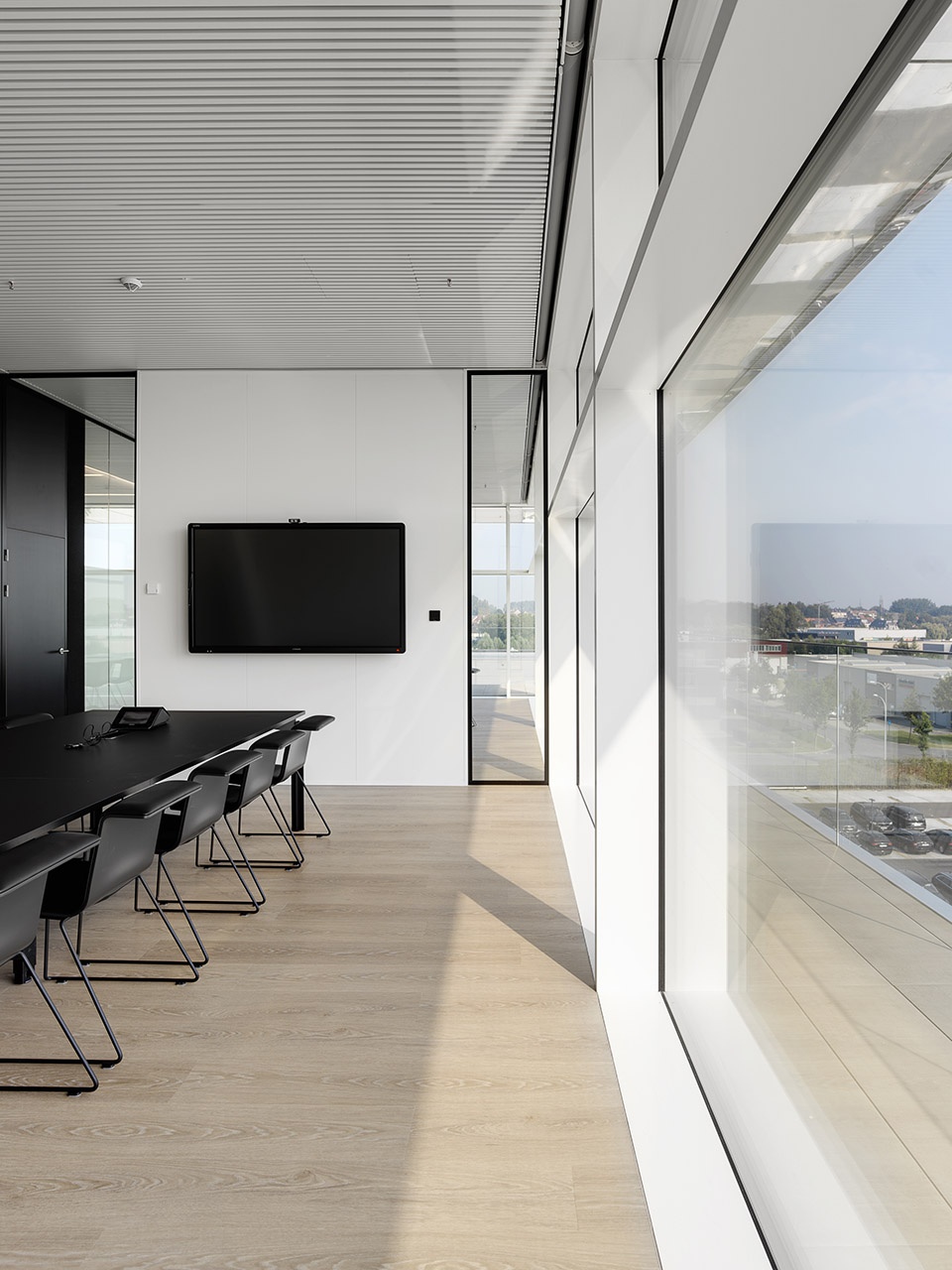 ▼办公室细部,office details ©Bart Gosselin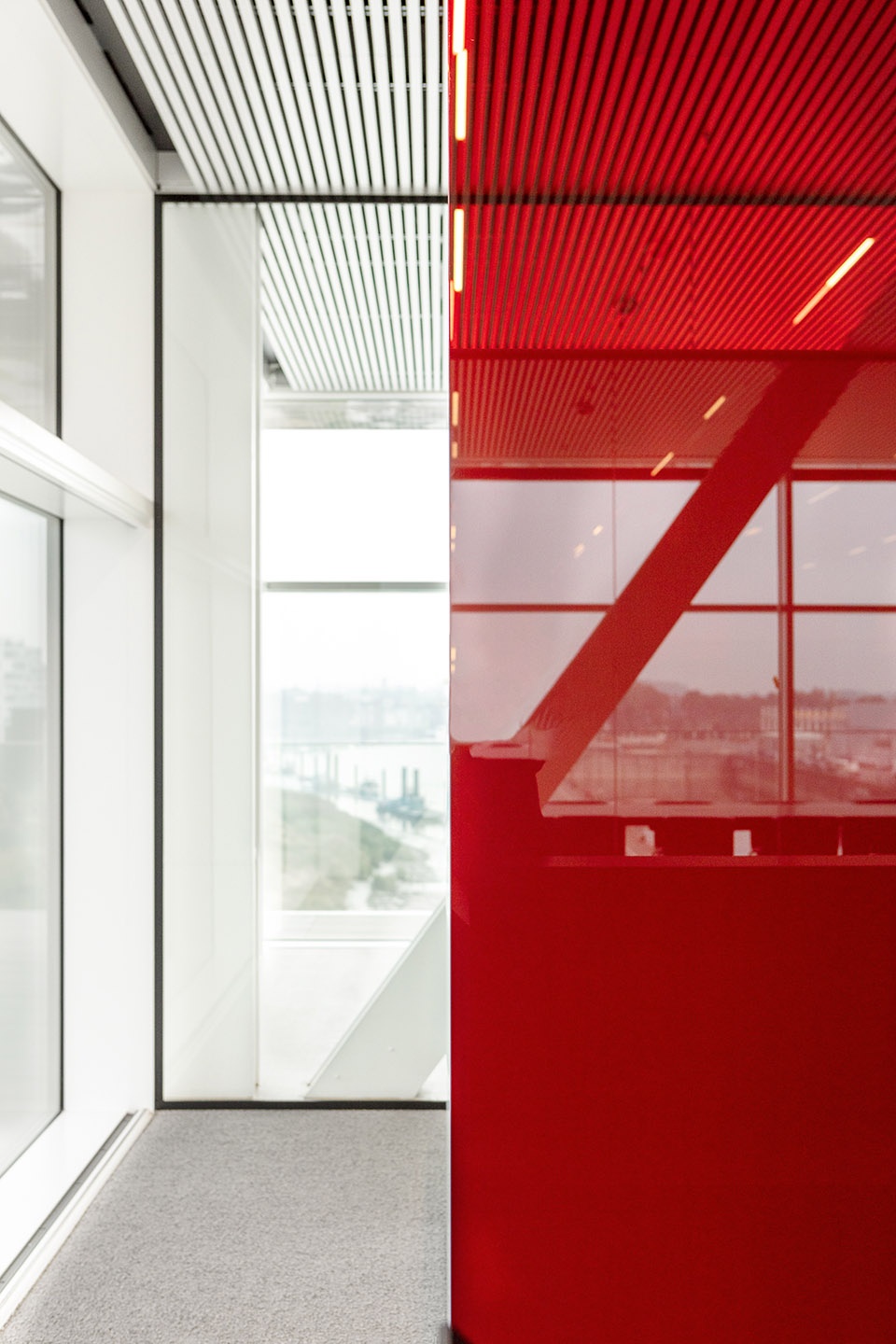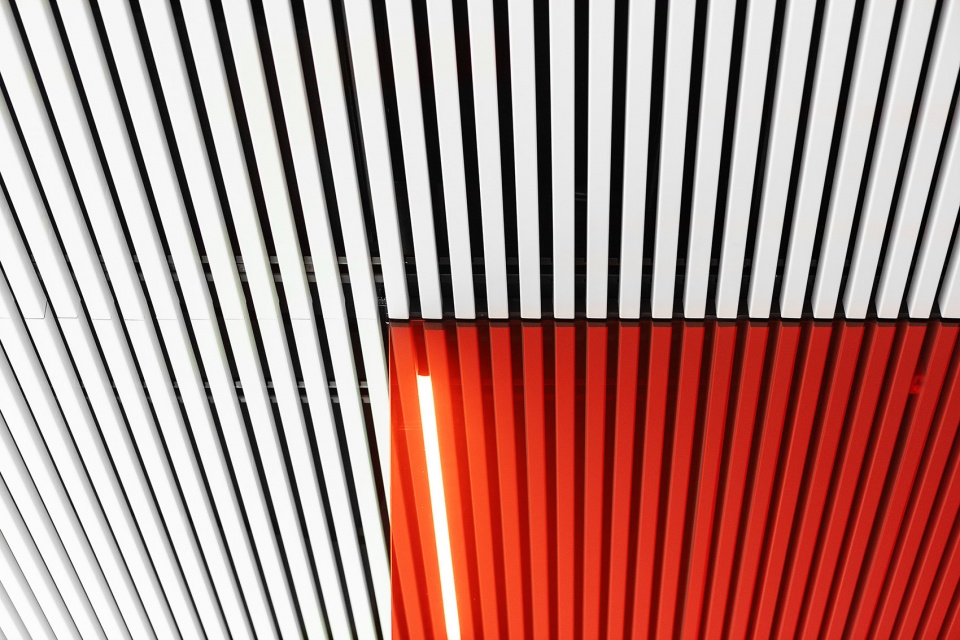 ▼夜景,night view ©Tim Fisher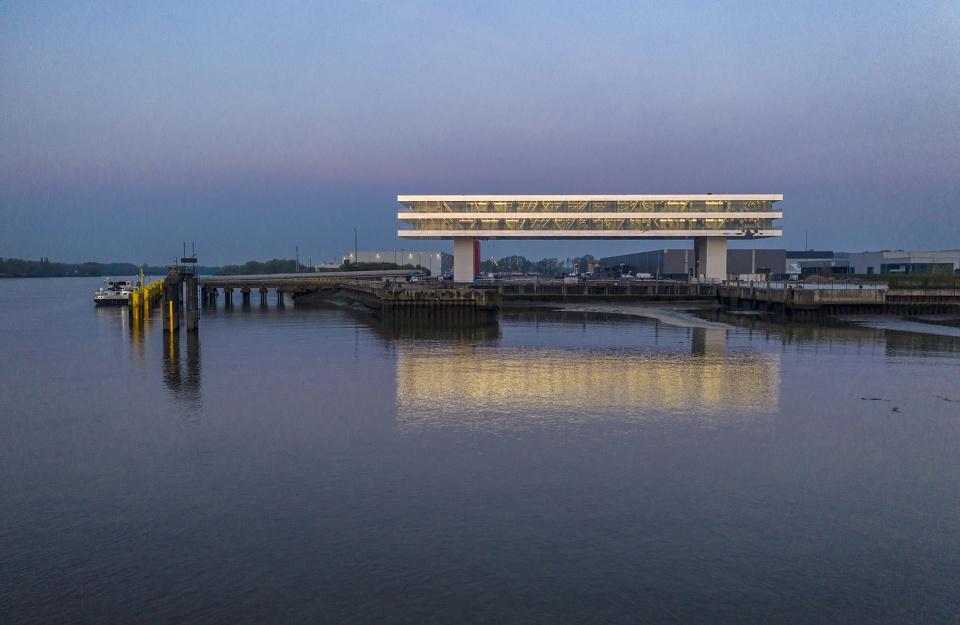 ▼一层平面图,ground floor plan ©Binst Architects

▼办公空间一层平面图,first floor plan of the office space ©Binst Architects


▼立面图,elevation ©Binst Architects


▼剖面图,section ©Binst Architects


▼细部,details ©Binst Architects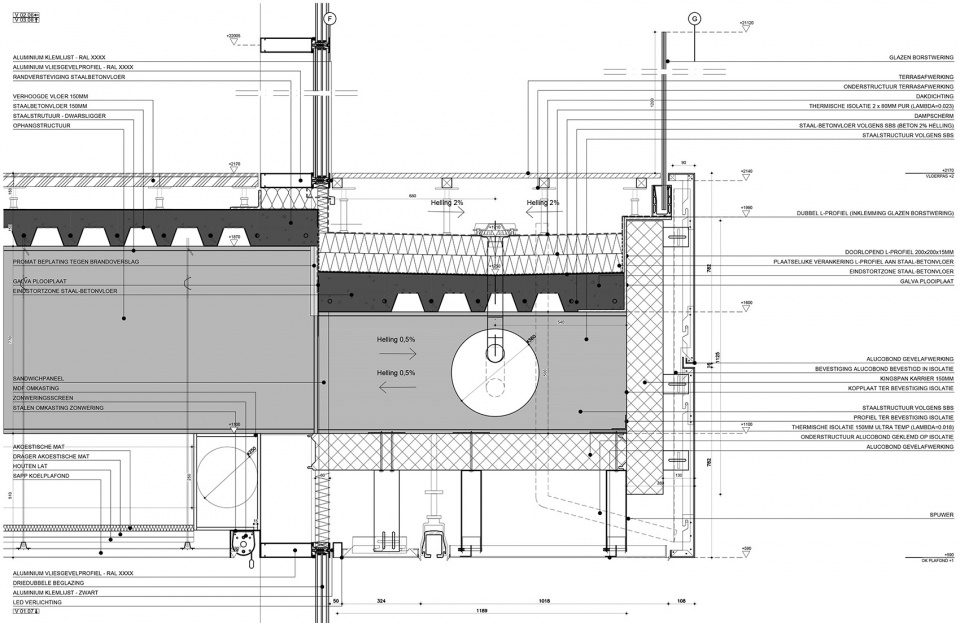 Project name: Headquarter Cordeel (1421 COKA)
Description: Newly built office villa
Client: Cordeel zetel Temse nv
Site: Frank Van Dyckelaan 15, B – 9140 Temse
Architects: BINST ARCHITECTS nv
Project Architect: Nick Verbeeck
Consultants: Evi van Schooneveld, Andreas Porreye
Interior Designer: Wim Heyninck, Kenn van Overveld
Stability: Ney & Partners – BXL nv
Techniques: T.E.E. bv nv – Arch & Teco Engineering bv nv (Study), Cordeel zetel Temse nv (Execution)
Acoustic advice: Daidalos Peutz bouwfysisch ingenieursbureau bvba
Main contractor: Cordeel zetel Temse nv
Subcontractors: Imtech Belgium Holding nv (Technical installations)
Kone Belgium nv (Elevators)
Drooghmans nv (Limeparts-Drooghmans, Facade cladding)
Start date design: 01.09.2014
Start of execution: 01.03.2017
Provisional acceptance: 01.04.2019
Final acceptance: 01.04.2020
Terrain surface: 245,000 m²
Total area: 5,964 m²
(Above ground 5,062 m² and underground pump cellar 220 m² + garage and
lifting shaft core A + B 682 m²)
Office space: 6,190 m² (Including terraces and cores circulation)
Environmental construction: 15,000 m²
Parking spaces: 136 (Above ground)
10 (Underground for management)
Underground parking: 962 m² (Including technical spaces)
More:BINST ARCHITECTS 更多关于他们:BINST ARCHITECTS on gooood
版权️©谷德设计网gooood.cn,禁止以gooood编辑版本进行任何形式转载
Copyright©gooood
Click to contact with the designer/author