非常感谢 DS+R 将以下内容授权gooood发行。更多关于他们:DS+R on gooood.
Appreciation towards DS+R for providing the following description:
更多关于本项目:Columbia University Medical Center / DS+R
由纽约Diller Scofidio+Renfro综合设计事务所和Gensler共同设计的哥伦比亚大学医学中心研究生教学楼从2016年8月15日秋季学期开始时对师生开放。这个配有先进医疗设备的14层玻璃塔楼总面积为10万平方英尺。教学楼内有智能教室,协作空间及一个用于21世纪医学的教学和实验的现代化模拟试验中心。设计旨在让医疗中心改头换面、使其焕然一新的同时,为促进现代医学实践必需技能创建了发展空间。
Columbia University Medical Center's new, state-of-the-art medical and graduate education building, the Roy and Diana Vagelos Education Center, will open to faculty and students on August 15, 2016 for the start of the fall term. Designed by the New York-based interdisciplinary design studio Diller Scofidio + Renfro, in collaboration with Gensler as executive architect, the Vagelos Education Center is a 100,000-square-foot, 14-story glass tower that incorporates technologically advanced classrooms, collaboration spaces, and a modern simulation center to reflect how medicine is taught, learned, and practiced in the 21st century. The design seeks to reshape the look and feel of the Medical Center campus, and also create spaces that facilitate the development of skills essential for modern medical practice.
▽ 建筑外观,external view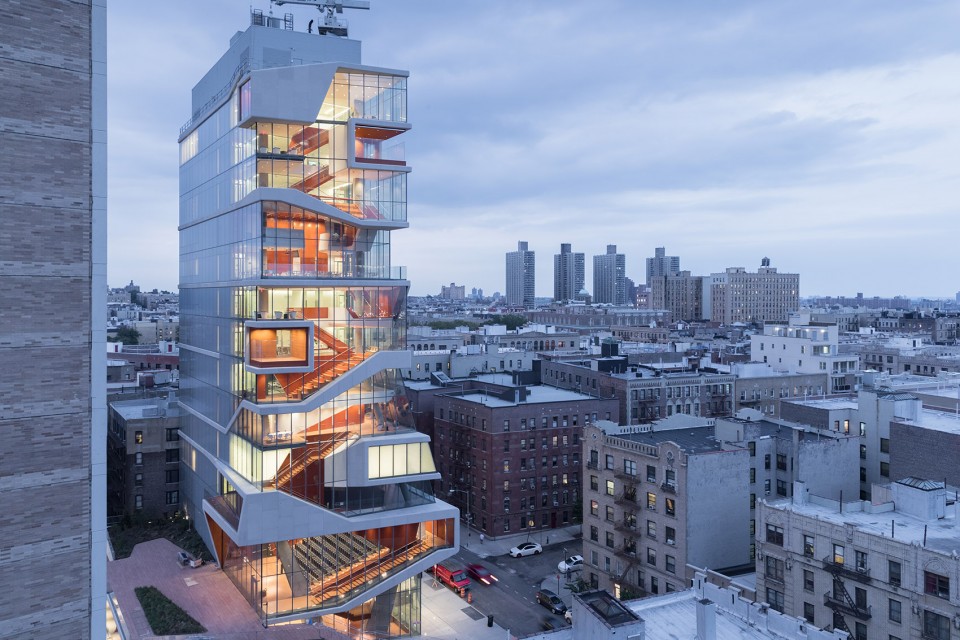 ▽ 从东南角看14层的玻璃塔楼,view of the 14- story glass tower from south east corner

▽ 南立面图及室外空间景观,exterior view of the south facade and West Court

"激活校园计划"除了Vagelos教学楼外,还包括扩建绿地,新建医学院大门,加强学生服务,翻新一些现有建筑,打造全新的空间,比如哥伦比亚大学护理学院的新院楼。教育中心定义了校园北部边界,并与周围的华盛顿高地社区相连接。
In addition to the new Vagelos Education Center, initiatives to revitalize the campus include increasing green space, creating a new gateway to the medical school, consolidating student services, renovating several existing buildings, and constructing new spaces, including the new home for the Columbia School of Nursing. The Vagelos Education Center will help define the northern edge of the campus and provide a bridge to the surrounding Washington Heights community.
▽ 建筑与周边区域,building and its surrounding area

Vagelos教学中心是一栋钢混结构的14层玻璃塔楼,建筑面积10万平方英尺,配有先进的医疗和科研设施。建筑内的社交空间和学习空间沿着裸露在建筑外的竖向楼梯蜿蜒向上,在视觉上延伸了楼高。这种布局被称为Study Cascade。楼梯和南向室外露台相连,创造了供团队讨论合作教学的空间。
DS+R的创始合伙人Elizabeth Diller说,"空间对于结构化学习和非正式学习都非常重要。为了支持哥伦比亚大学崭露头角的医学教育事业,我们设计了一个有团队合作专用空间的建筑。Study Cascade-一个各种尺寸竖向楼梯相连的14层交通空间成为了建筑的主角,引人注目而又实用,兼顾私密性和公共性,室内外空间处理得恰到好处。
The Vagelos Education Center is a 14-story glass, concrete, and steel structure anchored by a network of social and study spaces distributed along an exposed, interconnected vertical staircase that extends the height of the building—known as the "Study Cascade"—and encompasses 100,000 square feet of advanced medical and scientific facilities. The alcove interiors of the Study Cascade, designed to be conducive to collaborative, team-based learning and teaching, open onto south-facing outdoor spaces and terraces.
"Space matters for structured and informal learning," said Elizabeth Diller, founding partner at Diller Scofidio + Renfro. "To support Columbia's progressive medical education program, we designed a building that will nurture collaboration. Its defining feature is the Study Cascade–a 14-story network of vertically linked spaces in a variety of sizes, both focused and social, private and communal, indoors and out."
▽ 贯穿14层的交通空间,Study Cascade

▽ 兼有社交空间和学习空间的Study Cascade, the social and study spaces that comprise the study cascade

▽ Study Cascade,解剖实验室和周边建筑的多功能活动中心的夜景, dusk view of study cascade stairs, anatomy lab, and multi purpose event space from adjacent building|

▽ 大厅,lobby

▽ Study Cascade内部楼梯,study cascade stair


设计的其他核心空间还包括:
遥望着Palisades的一层的大厅和咖啡厅
包括咖啡厅,计算机工作区和计算机实验室在内的学生活动中心
包括虚拟实验室、门诊和手术室的先进的临床模拟中心
可承办讲座、多媒体放映和演出的275座多功能礼堂
可根据需要分隔空间,配备下降屏幕和大尺寸可触控屏幕、地板电源和数据传输口的学术讨论室
种有多种植被的室外空间
配备内置屏幕和专用照明的多功能解剖教室
Other key elements of the design include:
Ground floor lobby and café, which adjoin a "study bar" with views of the Palisades
Student Commons, which features a café, computer work area and computer labs
Advanced clinical simulation center, a specialized space for mock examination rooms, clinics and operating rooms
Multi-purpose auditorium, a 275-seat flexible space used for campus-wide events such as lectures, screenings and concerts
"Academic Neighborhoods," groups of classrooms that can be configured according to need by operable partitions, drop down screens and large-scale multi-user touch screens, suspended ceilings, and distributed power and data at the floor
South and West Courts, outdoor spaces featuring local plant species
Anatomy Quad, a flexible learning space with integrated screens and task lighting
▽ 265座礼堂和室外露台, 265 seat auditorium and exterior terrace


▽ 可以欣赏到城市全景的解剖实验室, anatomy lab with panoramic views of the city


Gensler的负责人Maddy Burke-Vigeland说,"Vagelos教育中心一开始的定位是一个地方优秀高等学府,但与此同时它也是一个社会迫切需要的教育中心。"因为大家的积极参与,教育中心声名鹊起,远高于我们的期望,成为了哥伦比亚大学医疗中心区里一个活力四射的新枢纽。"

"The Vagelos Education Center started with a clear vision as a place of excellence for higher learning that would also act as a much needed social center," said Maddy Burke-Vigeland AIA, Principal at Gensler. "Because of everyone's deep involvement, it has transformed into something that exceeds even those high expectations: a vibrant new hub for Columbia's Medical Center campus."
DS+R的设计充分利用了哈德逊河和帕里塞兹公园的绝佳美景,一系列的可持续设计特征在设计里也集中体现,包括从当地采购的建材,屋顶绿化技术,使建筑水电消耗量降到最小的创新机械系统,以及采用特殊陶瓷熔块模式的立面,在此模式下降低玻璃幕墙对于阳光的漫反射。包含Vagelos教育中心在内的所有新建和改造项目,都致力于减少哥伦比亚大学医疗中心的碳排放量,于2025年达到降低30%温室气体排放量的目标。
DS+R's design takes advantage of an incredible view of the Hudson River and the Palisades. The building also integrates a range of sustainable features—including locally sourced materials, green roof technologies, and an innovative mechanical system that minimizes energy and water use—and the façade features ceramic "frit" patterns that are baked onto the exterior glass to diffuse sunlight. All new construction and renovation projects—including the Vagelos Education Center—work toward the goal of minimizing CUMC's carbon footprint and reducing greenhouse gas emissions by 30% by 2025.
▽ 建筑夜景,evening view

▽ 内部空间格局,internal organization

▽ 材料设计,technical and material description

Drawings: Diller Scofidio+Renfro
English Text: Diller Scofidio+Renfro
Chinese Text: gooood
MORE: Diller Scofidio+Renfro ,更多关于他们:DS+R on gooood.
版权️©谷德设计网gooood.cn,禁止以gooood编辑版本进行任何形式转载
Copyright©gooood
Click to contact with the designer/author